Welcome to Antigua on the Paradise Islands website; the largest of the British Leeward Islands: 14 miles long and 11 miles wide and about 108 square miles in total. It's highest point is Boggy Peak (1,319 feet) in the south western corner of the island and the finest views can be seen from the famous lookout at Shirley Heights. The population of the island and it's dependency Barbuda is around 68,000 and the capital town is St. John's on the sheltered west coast.
Antigua has an amazing

365 beaches - one for each day of the year! Obviously some of them are quite small and most of the beaches are located inside the protected waters of the island's Caribbean side such as Curtain Bluff, Rendezvous Bay, Windwood Beach and Mamora Bay (home of the world famous St James Club).

The tourist beaches of Dickenson Bay and Runaway Bay are located along the more developed north western coast which is the place to visit for the main resorts. The beaches and coves of the west and south western corner of the island are less developed than those around St John's. Worth exploring are Half Moon Bay, Darkwood Beach and Nonsuch bay.
| | |
| --- | --- |
| Cruise ship entering St John's Harbour | The Museum building at Nelson's Dockyard |
The main sights not to miss in Antigua (not necessarily the major tourist attractions) are St John's, Sandy Cove in Nonsuch Bay, Nelson's Dockyard at English Harbour, the spectacular views from Shirley Heights, Falmouth Harbour, the wild and remote Devil's Bridge on the north eastern point and Half Moon Bay (possibly the most beautiful of all the island's beaches).
Cruise ship passengers dock in the cruise port in Saint John's town which is a short walk from the main shopping areas. Passengers will have a wide variety of excursions to choose from, those staying on the island for longer should definitely rent a car and explore the more remote areas.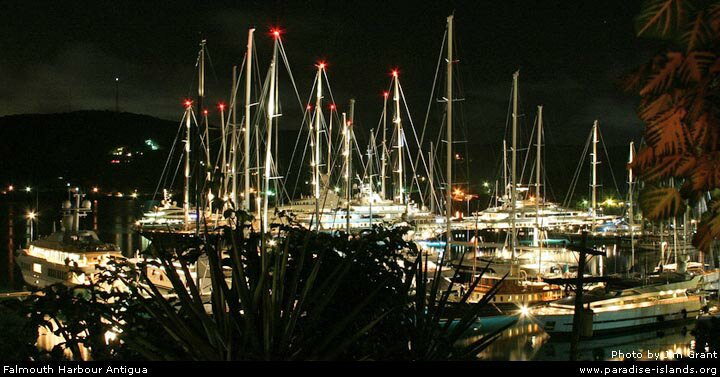 E

nglish Harbour is Antigua's graceful historic district which incorporates Nelson's Dockyard National Park. Nelson's Dockyard was developed as a base for the navy and served as the head quarters of the British fleet of the Caribbean Leeward Islands during the late 18th century.

The dockyard was expanded by Horatio Nelson but it was abandoned in the nineteenth century and closed in 1889. The naval yard has now been restored and it is the only Georgian dockyard in the World.

Right: View from Shirley Heights, click for a larger image.
Travel, holiday, vacation and cruise guide to Antigua and the Caribbean. All text and images are Copyright Paradise Islands org. All photographs on this travel guide website are obtained with the permission of the owners and come from various sources including the island's tourist boards. Antigua Aerial Photos

Quick Facts
Capital
St John's

Main Airport
VC Bird
International

Main Port
St John's

Language
English

Currency
Eastern
Caribbean
Dollar

Government
Independent

Island Size
108
Square Miles

Population
68,000

Nelson's Dockyard
Shirley Heights

St John's
Dickenson
Jolly Beach

Galleon Beach
Hell's Gate

Pillars of Hercules

English Harbour

Devil's Bridge