Welcome to Jamaica on the Paradise Islands website. Jamaica is located just west of the island of Hispaniola (Republic of Haiti and the Dominican Republic) and ninety miles south of the Republic of Cuba within the Greater Antilles archipelago. Jamaica is a mountainous island and the third largest in the Caribbean, 145 miles long and 50 miles wide.
Jamaica is an English speaking independent territory and still remains part of the Commonwealth with the British Monarch as Head of State. The "Commonwealth of Jamaica" gained full independence in 1962 after leaving the Federation of the West Indies.

The population is around 2.8 million, made up of a rich mix of East Indians, Whites, Chinese and Arabs. Mixed race Jamaicans are the second largest racial group after East Indians. Christianity is the main religion within a parliamentary democracy and a constitutional monarchy.
| | |
| --- | --- |
| | |
Around 1.3 million tourists visit Jamaica every year making tourism one of the most important sectors of the economy along with agriculture, mining and manufacturing. One of the main tourist areas are located in and around Montego Bay in the north west of the island.

Montego Bay is the second largest city in Jamaica, after Kingston, and it is served by the Sir Donald Sangster International Airport, which is the busiest commercial airport. Montego Bay also has a free port with a cruise ship terminal. Cruise ships visiting Jamaica will stop here, not at Kingston. It's not one the most popular cruise ports in the the Caribbean, but an increasing number of ships are visiting Montego Bay.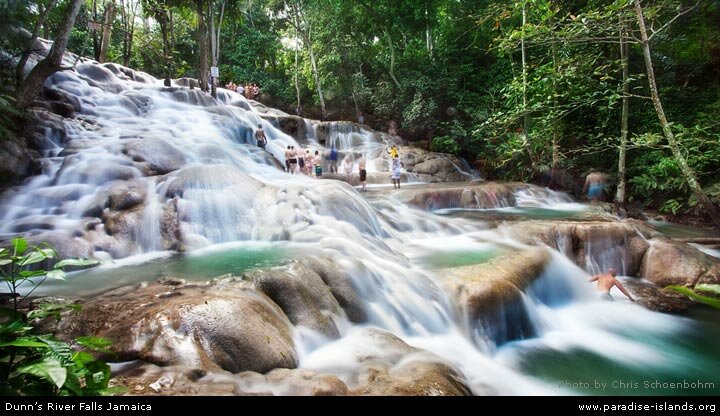 Other popular tourist destinations include Negril in the north western tip of Jamaica; Ocho Rios on the central northern coast and Port Antonio in the north eastern part of the island.

Jamaica's attractions include the world famous Dunn's River Falls near Ocho Rios; the Bob Marley museum in Kingston; bamboo rafting on the Martha Brae river near Montego Bay and the Blue Mountains.
Travel, holiday, vacation and cruise guide to Jamaica and the Caribbean. All text and images are Copyright Paradise Islands org. All photographs on this travel guide website are obtained with the permission of the owners and come from various sources including the island's tourist boards.

Quick Facts
Capital
Kingston

Main Airport
Norman Manley
International

Main Port
Kingston

Language
English

Currency
Jamaican Dollar

Government
Independent
Commonwealth

Island Size
4,200
Square Miles

Population
2.8 Million