Welcome to Bonaire on the Paradise Islands website. Located in the Leeward Antilles region of the West Indies which is situated in the southern part of the Caribbean Sea, 50 miles north of Venezuela and just east of it's larger neighbour Curacao.
The Caribbean Leeward Antilles are divided into two groups of isles; the Dutch "ABC" islands of Aruba, this island and Curacao; and the Venezuelan isles of Isla la Tortuga, Las Aves, Los Roques, Orchila and Magarita. The "ABC" isles were all part of the Netherland Antilles until their dissolution in 2010 (which also included St Maarten and Saba to the north).
Ringed by coral reefs and the car licence plates read "Diver's Paradise" which aptly sum up the approach to eco tourism with snorkeling, diving, windsurfing and fishing being the most popular tourist activities, both on the main island and it's smaller uninhabited islet of Klein Bonaire. The very first Caribbean marine park was established here in 1979 and the coral reef has been protected by law since 1975.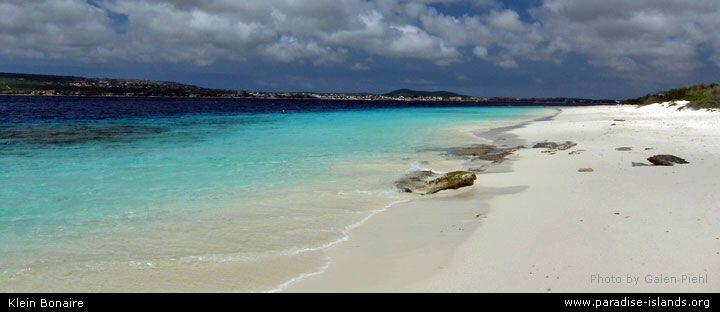 Air travellers arrive at the Flamingo International Airport on local inter-island flights from Curacao, Aruba and the Princess Juliana Airport in Sint Maarten, as well as a few international routes including Amsterdam. "International" is probably stretching the use of the word, although the airport is being enlarged. A good clue to the actual size is advice from the airport's own website which states that aircraft weighing up to 3 tonnes will incur a landing fee of $10.20 payable by the pilot.

Cruise ships dock at the town pier in downtown Kralendijk where all shopping, dining and bars are an easy walk from the pier in the Waterfront Parade, Harborside Mall and Kaya Grandi. The main Wilhelmina Square is located directly opposite the dock and features local arts and produce when a cruise ship in in port.
Travel, holiday, vacation and cruise guide to Bonaire in the Caribbean Leeward Antilles. All text and images are Copyright Paradise Islands org. All photographs on this website are obtained with the permission of the owners and come from various sources including the island's tourist boards.

Quick Facts
Capital
Kralendijk

Main Airport
Flamingo
International

Main Port
Kralendijk
Town Pier
(Cruise Ships)

Language
Dutch

Currency
US Dollar

Government
Netherlands
Special
Municipality

Island Size
113
Square Miles

Population
17,000

Willemstad Curacao