Welcome to Saba on the Paradise Islands website. Saba is located south of Sint Maarten and St Barts and just north west of Saint Kitts and Nevis in the Caribbean Leeward Islands chain. The tiny island is just 5 square miles with a population of some 1,800 residents. The island's land mass is mainly made up of Mount Scenery which rises 877 metres at it highest point. The Mount Scenery volcano is potentially active; however the last eruption was in 1640.
Saba was part of the Netherlands Antilles (together with Sint Maarten and the "ABC" islands further south of Aruba, Bonaire and Curacao) until dissolution and it was made a 'special municipality' in 2010. It is the smallest municipality of the Netherlands. Dutch is the official language; however, English is the principle language and spoken by the locals for around than 150 years. In January 2011 the US dollar became the official currency replacing the Netherlands Antillian Guilder.
Ecotourism is is one of the main sources of income on Saba with scuba diving, climbing and hiking all being popular attractions. The island has a small number of hotels and other accommodation able to sustain around 25,000 visitors a year.
Visitors arrive at the small Juancho E Yrausquin airport from St Maarten or St Eustatius or via a ferry from Sint Maarten which docks at the pier at Fort Bay.

Visitors arriving by air from St Maarten will have already experienced a hair raising landing at the notorious Princess Juliana Airport at which aircraft as large as 747 jumbo jets pass just 30 feet above the tourists at Maho beach. Visitors will then encounter a white knuckle landing at the airport in Saba, which at 396 metres (1,300 feet), is the shortest commercial runway in the world with a sheer cliff face at both ends of the landing strip.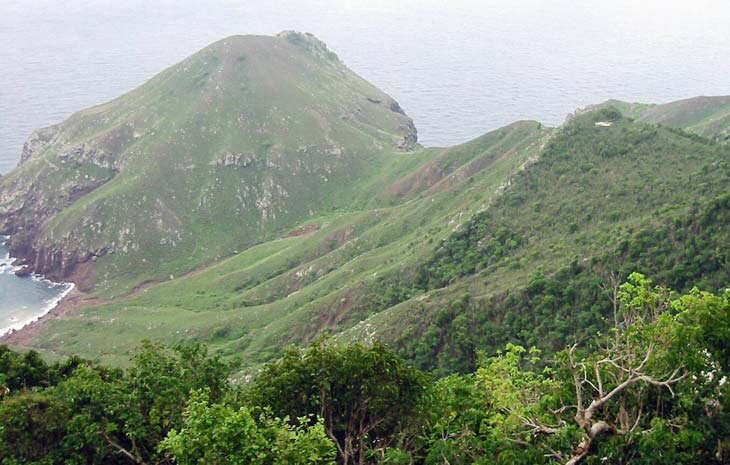 Once on the island of Saba there is only one road running from the airport through Hells Gate, Windwardside, The Bottom and on to Fort Bay. "The Road" as it is known, was started in 1938 and not finished until 1958. The first motor car arrived on Saba in 1947 more than four years before construction of the first short stretch of road was completed. Saba had no airport until 1963 and the pier at Fort Bay was only completed in 1972. Before 1972, everything arriving on Saba was carried up 800 stone steps by hand to the main settlement of "The Bottom".
Travel, holiday, vacation and cruise guide to Saba and the Caribbean. All text and images are Copyright Paradise Islands org. All photographs on this Caribbean travel guide website are obtained with the permission of the owners and come from various sources including the islands tourist boards.

Quick Facts
Capital
The Bottom

Main Airport
Juancho E Yrausquin

Main Port
Fort Bay

Language
English

Currency
US dollar

Government
Netherlands
Municipality

Island Size
5 Square Miles

Population
1,800