Welcome to Dominica on the Paradise Islands website. Dominica (not to be confused with the Dominican Republic) is the most southerly of the Caribbean Leeward island chain, located north of Martinique and south of Guadeloupe. The Commonwealth of Dominica ("Nature Isle of the Caribbean") is a fairly large island of around 290 square miles and a population of 72,000. The island is a democracy within the Commonwealth of Nations (republic) after being granted independence from the United Kingdom in 1978.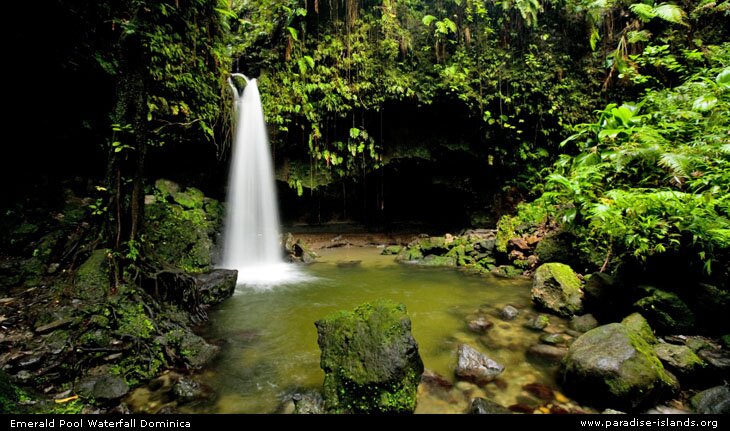 Dominica was settled by the Caribs in the fourteenth century and they called the island "Waitikubuli". On Sunday November the 3rd 1493 Christopher Columbus named the island "Domenica" which means 'Sunday' in Italian. The Spanish never settle on the island and it remained in the hands of the Caribs until 1635 when the French claimed the island and French missionaries settled Dominica shortly after. The British invaded the island in 1761 and took control despite failed attempts by the French in 1795 and 1805 to regain control. Independence was granted in 1978.
| | |
| --- | --- |
| | |
Dominica's capital is Roseau (population 15,000) on the eastern coast and other large settlement is Portsmouth (population 3,000). Roseau is the main cruise port for visiting ships. Portsmouth is the second largest town and lies at the mouth of the Indian River in the north of Dominica. Until 1760 it was the capital.

The main airport of Melville Hall is not large enough to accommodate large jets and connecting flights link Dominica with the nearby islands of Puerto Rico, Antigua and Barbados, etc.

The official language spoken on the island is English (and French patois). The Eastern Caribbean Dollar is the official currency, although travellers will have no problem using US dollars.
Dominica is a mountainous volcanic island with lush rainforests, rivers and a wealth of natural beauty. It is said that the island has 365 rivers and numerous waterfalls. The tropical rainforest is well protected and the Morne Trois Pitons National Park is recognised as a World Heritage Site. The island doesn't have many typical pristine white sandy beaches associated with many other islands in the Caribbean; however, Dominica has "nature" as it's tourist attraction.
Travel, holiday, vacation and cruise guide to Dominica and the Caribbean. All text and images are Copyright Paradise Islands org. All photographs on this Caribbean travel guide website are obtained with the permission of the owners and come from various sources including the islands tourist boards. Some of our own photos maybe reproduced with permission - please see notes attached to each image to avoid any copyright penalty.

Quick Facts
Capital
Roseau

Main Airport
Melville Hall

Main Port
Roseau

Language
English

Currency
Eastern
Caribbean
dollar

Government
Independent

Island Size
290
Square Miles

Population
72,000