The most notable and the most photographed landmarks in St Lucia are without doubt the Pitons. The towering twin Volcanoes of Gros Piton and Petit Piton dominate the landscape of the west coast of St Lucia.

Gros Piton stands 797 metres above sea level and it's smaller twin Petit Piton stands 750 metres above sea level; close to the town of Soufriere in the southwest of the island. The Pitons, which are now dormant volcanoes, are one of the most famous landmarks in the whole Caribbean region.
Covered in lush green vegetation, the Pitons seem to majestically rise from the blue waters of the Caribbean. What makes them so spectacular is that they do rise straight from Piton Bay and viewed from every angle they are just as impressive a sight.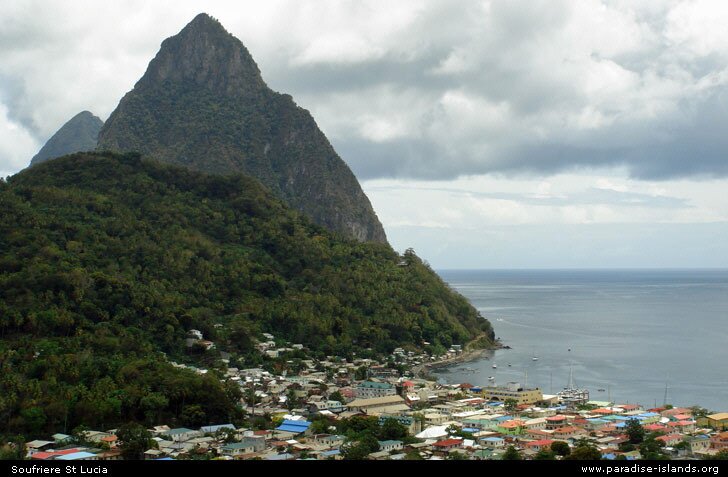 Between the two peaks lies an area of forested high ground known as the Piton Mitan which has a few buildings and a hotel (Ladera Hotel).

Tucked underneath Petit Piton is the old town of Soufriere. Soufriere was the capital of St Lucia (before Castries) during the period of French rule. Today it's a small fishing village with a few tourist attractions including the Diamond Botanical Gardens and the nearby Soufriere Volcano (known as the 'drive-though' or 'drive-in' volcano) as there is a convenient road through the very centre of the active crater.
| | |
| --- | --- |
| Pitons and Soufriere area picture map | Pitons from a local hotel |
Passengers from visiting cruise ships docked at Castries, can book a full day shore excursion (6 to 7 hours) which will take in the delights of the Pitons, a visit to the Soufriere Volcano (sulphur springs), a walk around the Diamond Botanical Gardens, lunch in Soufriere and a stop over at Marigot Bay. The trip down the winding west coast road through the rainforest takes a couple of hours and the Pitons excursions are easily the most popular in St Lucia. This is a long day, but well worth it. Remember that St Lucia is a mountainous island covered in lush rainforest and the climate is much wetter than most islands and fairly unpredictable.
Travel, holiday, vacation and cruise guide to The Pitons St Lucia, Caribbean
All text and images are Copyright Paradise Islands org 2009.

Castries

Rodney Bay

Drive-In Volcano
Marigot Bay
Diamond Botanical Gardens

Rainforest

More Photos