Known locally on the island as the 'Platinum Coast', the west coast of Barbados features some stunning white sandy beaches and calm azure waters; small settlements and towns, together with some fine hotels including the world famous Sandy Lane Hotel.


Barbados west coast beaches and places of interest (North to South)
At the very north west tip of Barbados there are the beaches and coves of Archers, Mother's Day, Maycock's, Hangman's and Smiton's. This is a quiet part of the island with good cliff top walks and a few houses and no hotels.
| | |
| --- | --- |
| | |
| Archers | Smiton's |
Six Mens Bay: Six Men's is a small fishing village on the west coast of Barbados and just north of Speightstown with local fishermen bringing in the catch and a popular 'fish fry' event held on Friday and Saturday evenings. You can still see traditional boat building in the area and the small wooden fishing boats are hand crafted on the sand.

Port St Charles Marina: This new marina complex features multi-million dollar luxury villas and apartments, the Port St Charles Yacht Club, health and beauty and sporting facilities. Unfortunately, this multi-million dollar development is surrounded by a huge wall and casual visitors are not able to gain access easily; however, all beaches are public and there is access at Almond Beach Village with some limited parking. The marina features around 150 villas and apartments, berths for around the same number of yachts and facilities for mega-yachts.

Heywoods Beach: Located near to the town of Speightstown and in the west coast parish of St Peter; Heywoods is a wide open area of fine sand, quiet and good for swimming and safe for children. Small pools at one end of the beach are good for a dip and the shallow reefs provided excellent snorkeling.

Speightstown: Pronounced "spike-stong", this was the first port and commercial centre in Barbados. Speightstown has a few luxury hotels, restaurants, art galleries and the nearby Port St Charles Marina development. Speightstown is the second largest town in Barbados but still not larger than a village. Originally called "Little Bristol" it was renamed after a local landowner and merchant William Speight.

Godings Bay lies south of the town and Godings Bay is a popular and easy to reach beach.

Mullins Bay: Mullins beach is one of the most popular beaches in Barbados where you can rent sun loungers and there is plenty of shade from overhanging palm trees. Safe swimming in roped off areas, a beach bar and water sports make this cove a hive of activity with a large car park across the road.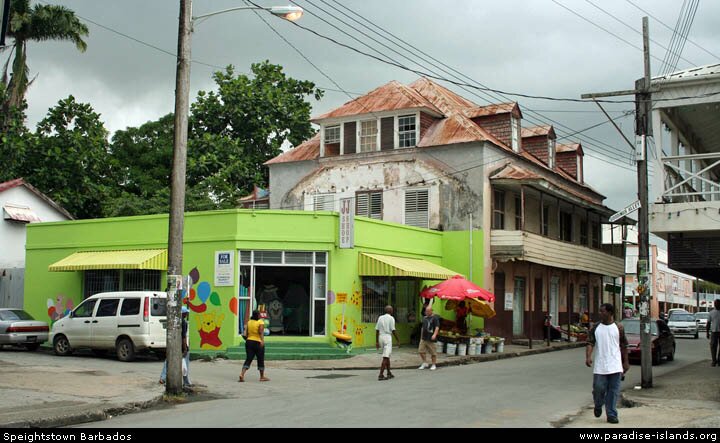 Gibbes Bay / Gibbs Beach: Gibbes (or Gibbs) beach is one of less populated and quieter beaches on the west coast; good sand and swimming and close to Holetown and Speightstown.

Reeds Bay: Reeds is unspoilt and tranquil and borders the main road with limited parking; Reeds Bay is roughly half way between the west coast towns of Speightstown and Holetown. Just south lies Heron and Alleynes bays.

Holetown: This small settlement in the parish of St James was originally named Jamestown after the British first landed here in 1625. Holetown acquired it's current name due to the unloading and cleaning of ships in the channel next to the settlement.

Sandy Lane: The Sandy Lane Beach is just south of Holetown and home to the world famous and luxurious Sandy Lane Hotel. The hotel is the most famous in Barbados and also well known throughout the Caribbean region. The Sandy Lane Hotel was opened in 1961 and attracts many wealthy visitors and celebrities from around the world. The Sandy Lane has two 18 holes golf courses just inland.
| | |
| --- | --- |
| | |
| Sandy Lane Hotel | Holetown Shop |
Paynes Beach: See also Mahogany below. There are two public accesses to the beach at Sandy Lane and Bomba's Beach Bar. Here you will also find the Coach House restaurant with a small kiosk for drinks and snacks. Parking is somewhat limited at Paynes. This west coast sand is well shaded with overhanging trees and sun loungers can be rented together with jet skis and catamarans. The beach is quite wide (by west coast standards) and with the facilities at Paynes it makes an ideal day trip, or spend a few hours with some after dark entertainment.

Mahogany Bay: Mahogany and Lower Paynes Beach are in the west coast parish of St James with pools and coral reefs and a walkway from the road. A small fishing village is located at the southern end of the cove with fine dining and picnic benches.
Paradise Beach: Adjoining Batts Rock (see above). Paradise beach is quiet and the home of the now closed Cunard Paradise Hotel. Currently the Sandals Resort which was proposed for the site has been delayed. Paradise Beach is generally deserted.

Freshwater Bay: Just south of Paradise Beach lies the quiet west coast area of Freshwater. The north beach area is generally less busy than the southern end.

Batts Rock Bay: Batts Rock lies a few minutes drive along the west coast of Barbados from the Capital of Bridgetown. It's a public beach with a picnic area, changing and shower facilities and children's playground. Good for swimming in calm waters and the rocky areas a fine for safe snorkeling. Batts Rock beach joins up with Paradise beach and Fitts Village.

Fitts Village: Located in the parish of St James, Fitts Village was named after Benjamin Thomas Fitt. The village has a small commercial centre, church, restaurants and a few guest houses and luxury villas.

Brighton Beach: Adjoining Brandons Beach (see below).

Brandons Beach: Brandons beach is the closest beach to Bridgetown, just north of the island's capital. A good beach for swimming with calm waters. The only sand in Barbados within a short walk of the Bridgetown Cruise Terminal and also home of the Malibu Visitor Centre and Beach Club. Chill out or watch the coming and going of ships from the harbour. Brandons joins up with Brighton beach.
| | |
| --- | --- |
| | |
| Brighton | Brandons |
Bridgetown: The capital of Barbados, Bridgetown is the seat of Government, the commercial centre and the island's main port.

Brownes Beach: Browns is located just south of the Bridgetown Cruise Terminal and on the outskirts of the capital city of Bridgetown. It is one of the longest sands on the west coast of the island stretching from Bay Street to Needham's Point. Great for swimming or sunbathing with a lifeguard on duty. Overlooking Carlisle Bay which is always busy with small boats and excellent for scuba diving where there are many wreck beneath the surface.

See also our Barbados East Coast overview and travel guide.
Travel, holiday, vacation and travel guide to Barbados. All text and photographs are Copyright Paradise Islands org
Interactive Satellite Image
Use the "+" or "-" buttons to zoom in or out