Welcome to Old San Juan Puerto Rico from the Paradise Islands website. The cruise port is a major embarkation point for many cruise lines operating in the Caribbean. Passengers will often transfer from the airport to the cruise ships and never actually see the island. Driving through the modern part of the city is similar to any metropolitan area in the USA. The older part of the city is just a short taxi ride from the port and it's a fascinating town to explore on foot.
Located on a small island called the "Isleta de San Juan" which is just 47 square miles and is connected to the Puerto Rico mainland by a causeway and a couple of bridges. Most of the Government buildings and historical sites are within the old walled city. It has a wealth of colonial buildings dating from the 16th and 17th centuries within narrow cobbled streets.
| | |
| --- | --- |
| | |
There are two historic forts in Old San Juan; Fort San Felipe del Morro (built in the 16th century) which is at the north-western tip of the walled city and the furthest to walk; and Fort San Cristobal (built in the 17th century) in the north-eastern corner of the city. Between the two forts is the ornate cemetery called the "Cementerio de Santa Maria Magdalena de Pazzi" which is located just outside the city walls and can be viewed from above on the grassy common ground at El Morro (see photo below).

(The road running between the two forts along the northern edge of the city (Boulevard del Valle / Calle Norzagaray) has a small shanty town which is a 'no go' area for tourists which is not always safe between the city wall and the sea).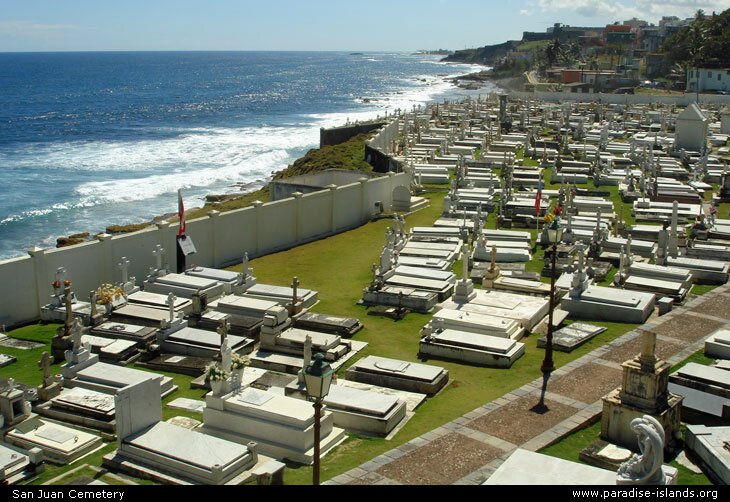 There is a pleasant walkway running under the city wall on the south-western part called the Passeo de El Morro (see top photo). For the walkway from the dock area follow the Passeo de la Princesa which leads to the Princesa fountain. The walkway then runs alongside the edge of the sea with a few shady areas to stop and rest and finishes at the Philipe Fort at the far end. The fort is open to the public and there is a museum providing an insight into the history of old San Juan.

Part of the historic town is a UNESCO World Heritage Site together with with parts of Old Havana (in the Republic of Cuba); Willemstad (in Curacao) and historic Bridgetown (in Barbados).
Interactive Satellite Image
Use the "+" or "-" buttons to zoom in or out
Travel, holiday, vacation and cruise guide to Old San Juan Puerto Rico and the Caribbean. All text and images are Copyright Paradise Islands org. All photographs on this website are obtained with the permission of the owners and come from various sources including the islands tourist boards.
Rain Forest

Map

Cruise Port Guide
Some of our favourite
Caribbean destinations
The Pitons
Saint Lucia
Nelson's Dockyard
Antigua
Trunk Bay
St John USVI
Philipsburg
Sint Maarten
Shirley Heights
Antigua

The Baths
Virgin Gorda BVI
West Coast
Barbados

Buried Plymouth
Montserrat

Cane Garden Bay
Tortola BVI
Willemstad
Curacao
Necker Island
BVI
Marigot Bay
St Lucia