El Yunque National Forest
Puerto Rico
Welcome to El Yunque National Forest Puerto Rico from the Paradise Islands website. (Formerly known as Luquillo National Forest). The rainforest is located in the north-eastern part of Puerto Rico and is an easy day trip from Old San Juan, or recommended shore excursion for cruise ship passengers. The tropical forest is on the slopes of the Sierra de Luquillo mountains and El Yunque is the second tallest mountain in the range.
Exploring by car: El Yunque is quite small and covers an area of just 28,000 acres. Visitors may drive around much of area and the Coca Falls are located right next to one of the roads. The El Portal Rain Forest Centre is worth a visit and is designed to give visitors a taste of the rainforest, with tree top walkways, exhibits and information on the plants and animals which live in here.
| | |
| --- | --- |
| Entrance to El Portal Centre | La Mina River, Puerto Rico |
Exploring on foot: A recommended activity is to walk the La Mina trail to the La Mina Falls (see bottom image); but as the image suggests, don't expect a wilderness with not a human soul in sight! At the top of the trail (off road 191) there are a couple of small parking lots which can get very busy, toilets and a few small food outlets. The trail is around three quarters of a mile long (at it's shortest) and you can pick up the trail further up for a longer trek.

The trail follows the course of the La Mina River with it's tumbling waterfalls, huge rocks and lush vegetation (see right image above). The trail path is a mixture of steps and slopes, mostly concrete surface and quite steep in places and slippery. You need to be reasonably fit and able to walk two miles and climb steps. A most enjoyable trek with fabulous surroundings, but final decent to La Mina Falls is steep steps and many visitors give up just before the final destination! Wear sensible shoes with some grip and allow 45 minutes to walk down the trail and more than one hour to return.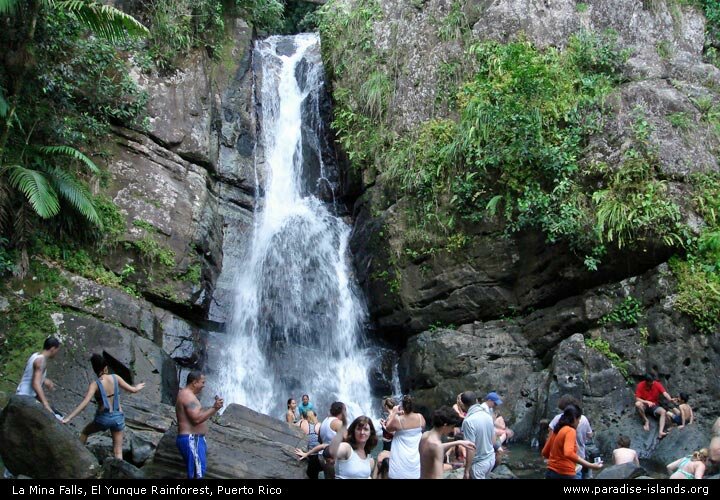 About Rain Forests.......

A tropical rain forest is characterized by having more than 68 inches of rain every year. Almost 30% of the world's oxygen is created in these forests and they also account for more than 40% of the world's total animal, insect & plant species. There are two types of rain forest; tropical forests (typically located between the Tropics of Cancer & Capricorn) and temperate forests, located in a cooler climate. The El Yunque National Forest in Puerto Rico is tropical.

How are rain forests and a jungles different? A rain forest restricts plant species growing at ground level due to the lack of sunlight caused by the tree canopy. When the trees are thinned it becomes a "jungle" with the increased growth of plants on the jungle floor.
Travel, holiday, vacation and cruise guide to El Yunque national forest Puerto Rico and the Caribbean. All text and images are Copyright Paradise Islands org. All photographs on this website are obtained with the permission of the owners and come from various sources including the islands tourist boards.
Old San Juan

Map

Cruise Port Guide
Some of our favourite
Caribbean destinations
The Pitons
Saint Lucia
Nelson's Dockyard
Antigua

Tobago Cays
Grenadines
Trunk Bay
St John USVI
Philipsburg
Sint Maarten
Shirley Heights
Antigua

The Baths
Virgin Gorda BVI
West Coast
Barbados

Cane Garden Bay
Tortola BVI
Marigot Bay
St Lucia