Baradal Island | Tobago Cays
Baradal island in the Tobago Cays: part of St Vincent and the Grenadines.

Baradal is shown in the foreground of this aerial image with Petit Bateau above and part of Petit Rameau above right.

Baradal Cay has one of the most popular beaches. The beach small and 'U' shaped on one corner of the island and always attracts plenty of visiting yachts in fine weather. The beach occupies the only flat ground with a small group of palm trees in the centre affording some limited shade.

There is another small sandy beach to the eastern side of the island facing the protected reef and Petit Tabac Cay.

Small yachts are currently permitted to anchor within the TCMP management zone to the north, west and south of the Cay. Yachts should anchor only on the sand-bottom areas.

To the south west of the beach is the turtle watching reserve which is designated with marker buoys.

The Cay is a hump shape covered in trees and dense foliage.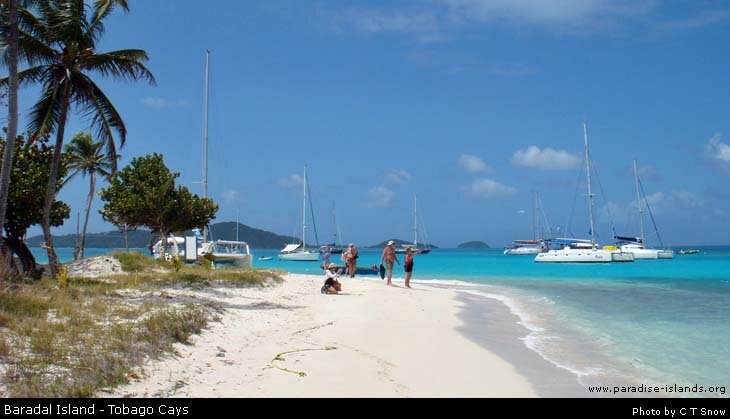 Travel, holiday, vacation and cruise guide to the Grenadines and the Caribbean. All text and images are Copyright Paradise Islands org. All photographs on this website are obtained with the permission of the owners and come from various sources including the island's tourist boards.